Fashion Freaks 2.0  finished in 2015.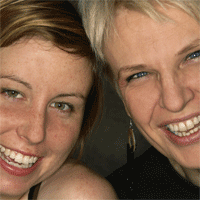 Meagan Whellans is originally from Australia and has a degree in textiles from R.M.I.T. a Melbourne university.
Susanne Berg is a freelance writer and analyst from Sweden and a wheelchair user for 30 years.
"During the quarter of a century I have used a wheelchair I have sewn and altered clothes en masse without finding the ultimate solution. In 2001 I met Meagan and almost immediately we started to talk clothes."
After a while our talks extended to trials. We started to test altering patterns and found it harder and more time consuming than we expected. We realised we needed a home and a sponsor for our project.
Independent Living Institute liked our idea of functional DIY fashion and became our home on the Internet
The Swedish Inheritance Fund has funded our projects.
Fashion Freaks 1.0
During our first project we tried to design basic patterns enabling wheelchair users to sew clothes adapted to a seated position. This resulted in a number of basic patterns – jackets, pants, skirts – which all were shaped to fit a seated body. Of course we were looking for solutions with the best functionality but we have never forgotten the vanity aspect. On our website you will not find skirts without back parts or bag-looking sheets of fabric. Also, we do not aim for garments made purely for how easy they are for others to assist us dressing and undressing. If you are looking for these type of solutions you will have to go elsewhere.
Rather immediately we realised that modern man – at least us westerners – mostly buys ready-made clothes and generally is quite useless at sewing. Therefore, detailed sewing instructions with large amount of illustrations are available for download. Everything, you need to make it as easy as possible for the users of the information on our website, is done.
Fashion Freaks 1.0 ended 2007.
Fashion Freaks 2.0 – Remade, Recycled, Revisited
At the end of 2010 we applied for funding to generate extended information on clothes for wheelchair users. Experiences from our first project and feedback through the website told us that in spite of sewing instructions etc. it is still too hard and problematic for many wheelchair users to sew well fitting, well functioning and stylish clothes from the basic patterns. In all honesty, it is not always what you want to do. Even wheelchair users have a right to be lazy.
During the 3 year project (2010 – 2015) we :
– developed and provided instructions on how to adapt ready-made clothes for a seated position;
– developed and provided instructions on how to use pieces or whole parts of ready-made clothes to create other types of garments (No mattern how good you are at sewing, some graments simply can not be done with good quality at home. It can also be important to look like you bought your clothed from the "posh" stor.);
– provided knitting pattern and instructions for sweaters etc for a seated position;
– developed partial garments that can be used together with other for the best functionality;
– gave tips on existing garments and accessoirs which can be combined for function and vanity.
Fashion Freaks 2.0  finished in 2015.
The Swedish Inheritance Fund granted us funding for the first project year in april 2011. During this year we are in the process of developing solutions for adapting ready-made garments to a seated positions.