Type of pants/jeans to look for
When doring the back piece adaptation (to create an angle for seated position) it is extra important to choose the right type of pant to adapt:
Dress pants generally come in fairly similar styles. Try to find a pair that rides medium to low on the waist. Avoid high waisted style pants and pleating in the front.
With jeans, we got the best results when using medium to low riding jeans in stretch denim. Avoid high waisted jeans for this adaptation
Tools needed
You will need scissors, and unpicking tool, cheap white non stretch cotton or calico (available from fabric stores or Ikea) A tape measure, a ruler, marking pens, chalk fabric markers, pins, hand sewing needles and thread, suitable fabric and a sewing machine. For the "hook and eye" adaptation you will need a hook and eye set. For the fly adaptation you will need a Zip. For "ROUND" body adaptations you will need elastic and a large safety pin.
The fit is important
How the jeans fit pre adaptation is important to how they will fit post adaptation (particularly important for adaptation of the back piece). Ill fitting pants will not improve from adaptations (though a slightly looser fit will be more successful than trying to adapt a pair of jeans or pants that are already too small). Try your pants or jeans before you adapt them, in a laying down position and sitting up.
When trying them while laying down, look for a pair that fits well over the hips and waist. You're better off leaning towards a waist that is slightly loose, meaning you are able to easily slip a finger between the skin and the waist band. When sitting up, un-adapted jeans and pants will cut into the waist and belly at the front. If they are cutting in excessively, or you can't do them up in sitting position, then you need a larger size.
Understanding pants/jeans sizes
Pants and jeans can come in several variations of sizing: Pants can come sized in letters or numbers for example 32, 34, 36 or XS, S, M.  Jeans can be sized in dress sizes for example 32, 34, 36, or XS, S, M or inch sizes, for example 26", 27", 28". For a more comprehensive view of sizing, and to find out what size you are, see the MEN'S and WOMEN'S SIZING information.
NOTE! For our back adaptations you will need to know your pants/jeans size and which size – S, M, XL, XL, XXL – we have alotted them.
Click here to go directly to information on MEN's pants sizes.
Click here to go directly to information on WOMEN's pants sizes.
Types of adaptations
In this section you will find a number of smaller adaptations like knee tucks, adapted flies, button replacement and pocket adaptations. While these are useful and certainly make pants more functional in many cases, our main adaptations focus on creating a different angle between legs and top part of pants fitting a seated position. This is done by removing and replacing part of the back piece of the pants.
Depending on your body type you can choose from 3 types of back piece adaptations:
"NORMAL" – which refers to a body shape that has traditional proportions with a waist that is smaller than the hips.
"WIDE" – which refers to a body type where the waist is similar in size to the hips.
"ROUND" – which is when you have a bigger waist and stomach area than hips.
If you are undecided between the "NORMAL" and "WIDE" adaptation, it is recommended that you do the wide adaptation first as this requires no cutting of the waist band. If you find it too big it is easy to replace the adaptation piece with a "normal" adaptation piece.  The adaptation for the "ROUND body type removes the waist band and replaces it with an elasticised one.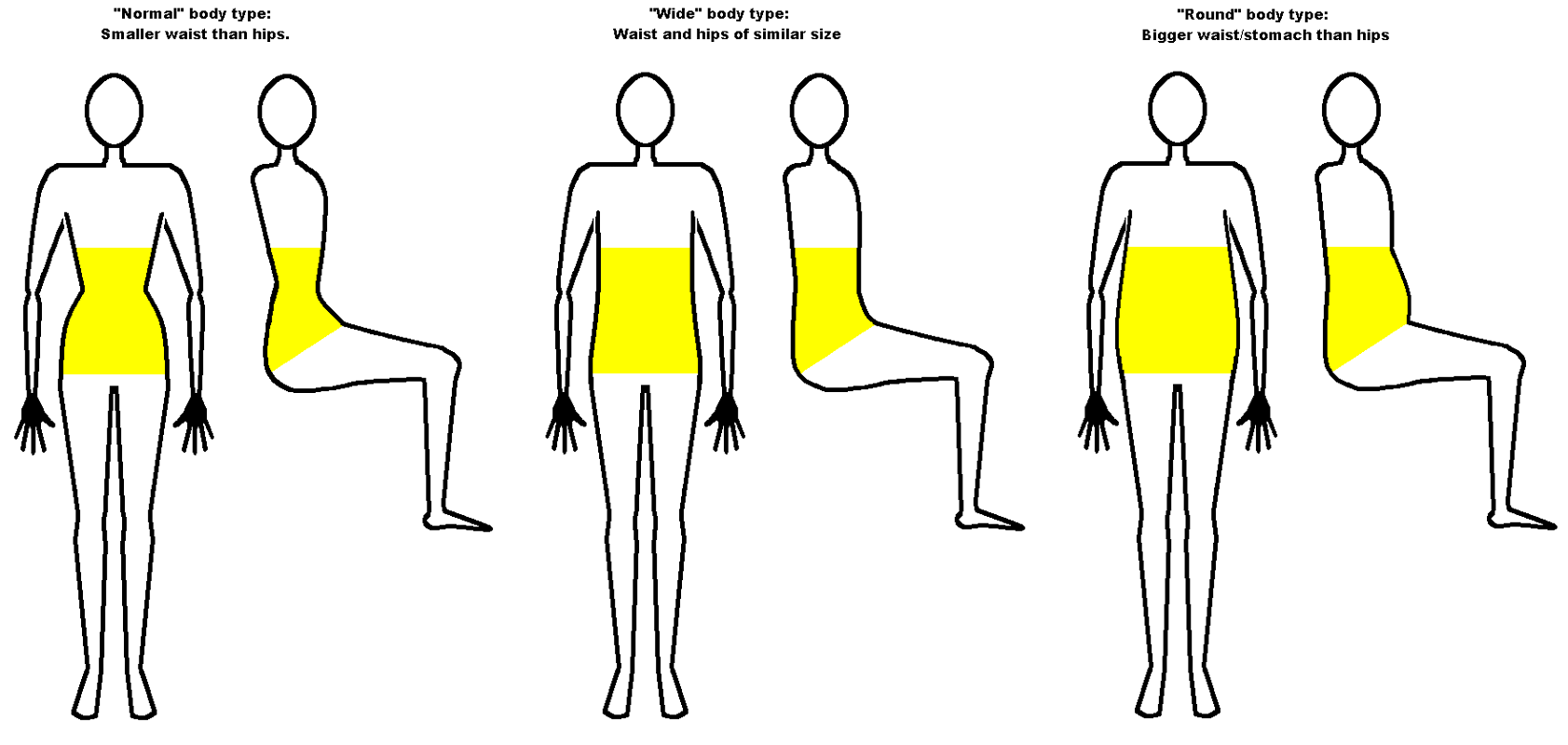 Type of fabric
Any fabric can be used, depending on your sewing skills though the samples done in this project were all done in cotton or stretch denim.  You can try finding fabric's that match the fabric of you garment, or alternative you can stick with plain black or white or choose a patterned or coloured fabric for a bit of fun and flair. Stretch fabrics can be used, but take care with them as they can be slightly more difficult to work with.  Only non stretch fabrics are recommended for the fly adaptation.