Pages to read before using  the patterns:
Calculating amount of fabric
Fabric comes in many different widths, so unless you know beforehand exactly how wide the fabric you intend to buy is, you will need to do a little bit of figuring out in the store.
When you go to the store, take with you all the information you'll need, like all the pattern piece measurements, the zip lengths, elastic lengths etc. Think about these things too, will you need lining and how much? Will you need iron-on interfacing to stiffen collars or use on facing? Do you need matching thread? Bring pens and paper too! If you have this information, I'm sure most fabric store assistants will be happy to help you figure out how much you will need to buy.
First you will need to measure each pattern piece to see how much fabric each single piece needs, that way when you know the fabric width you will be able to sketch out the layout of the pattern pieces on the fabric.
Remember all the pattern pieces need to run in the same direction, you can't cut things out all over the place just because they fit on the fabric and you're trying to use less fabric, or the garment will look very wrong.
You also need to think about the layout if you are using patterned or striped fabrics, and make sure the pattern on the fabric matches up when you cut your garment, sometimes this requires you to buy a little extra fabric. It is not as important in the sleeves or backs of garments, but if the front doesn't match up, it will look strange and draw attention in the wrong way.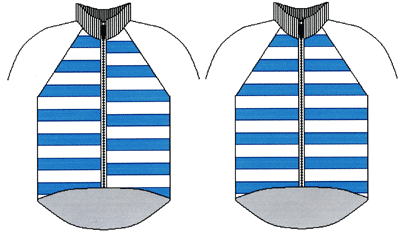 Mismatched stripes (as in the left jacket in the picture) don't look good, take care when cutting!
When it come to zips, they are in standard sizes, there is more sizes to choose from in smaller zips, for example they run, 8cm, 10cm 22 cm etc, but in the larger sizes, like the type you would use in a jacket they come 40cm, 45cm 50cm etc.
If the length of the front of your jacket is 38 cm, you can choose to lengthen the jacket a little and buy a 40cm zip, or you can insert a 35cm zip, and have some space at the collar or waist, or you can shorten the jacket to 35cm. The same applies for zips in skirts, when they are being used down the whole length of the skirt.
Finding the exact sized zip for pants, or in skirts, when they are shorter zips, and don't need to be a separating zip, you can use a slightly longer zip, and just leave the excess of the zip hang in the clothes (separating meaning zips that don't join at the bottom, and can be entirely opened and separated). Don't cut the zip off if it is too long, the zip will split after some use, and will have to be replaced, which is much more difficult in a finished garment, as you will have to un-pick the garment to replace the zip.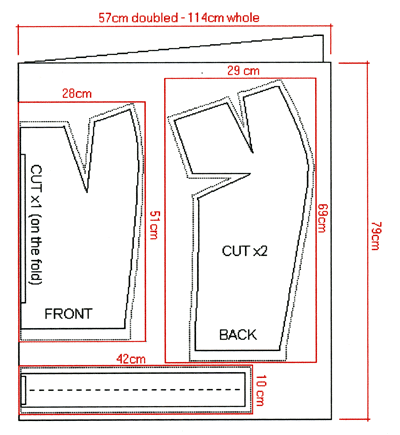 To the left you see an example of the measurements of a basic skirt in size medium. You can see if you have a fabric that is 114 cm or wider, then this skirt can be cut like this on the fabric, when folded in half.
Including the waistband, you will need to buy at least 79 cm in length, so it's better to round it up to 1 meter, and have extra to spare.

In this measurement example above, again, for a normal skirt in size medium, you can see on a fabric that is only 58 cm wide you can lay the skirt out like this on the doubled fabric and you will need 140cm in length.
Note that because the fabric is so narrow, you will have to cut the waistband in 2 pieces and join them to make one piece. Also note that fabric any narrower than this will not work for this pattern.
Last of all, always buy a little extra fabric in case of errors, and be careful not to forget to add your seam allowance to your pieces before you calculate how much fabric you need.
Ask for help if you need it, that's what people are there for.