Sewing instructions for men's raglan jacket:
Description of the content of the sewing instructions
This is the sewing instructions to the raglan jacket for men. It is fairly easy to sew. The jacket is longer at the back and shorter in front. It has a zipped up front. It does not have a lining except for a narrow strip along the hemline.
You have some alternative designs to choose from among the pattern pieces. The jacket can be sewn with either a straight back piece or a piece with a slightly curved shape.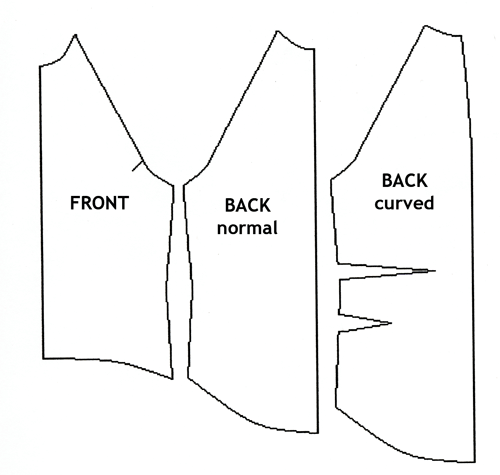 Some wheelchair users opt to sit with a slightly curved back (the pelvic tilted backwards against the wheelchair backrest) for better balance. The curved back will fit this position better.
The sleeve pattern to the men's raglan jacket consists of one piece giving you an ordinary raglan style jacket with a wide full sleeve.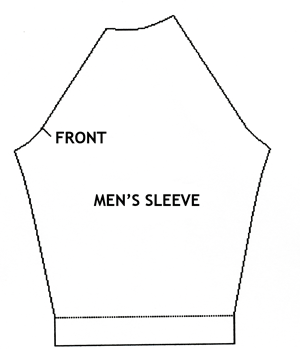 If you want a tighter more stylish fit check the pattern and sewing instructions for the women's jacket. This has a sleeve with slightly rounded design over the shoulders.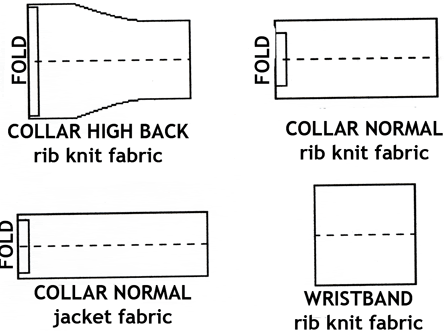 The collar is also available in two alternative designs, one with a straight overall width and another with a collar wider at the back. This creates a higher back to the collar and is primarily thought for a jacket with a curved back (following the curved line). The collar piece with high back should be made in rib knit fabric. A collar in non-stretch jacket fabric does not allow the stretch for this solution.
In the pattern pieces you also have a piece for wristband. This is if you opt for a jacket with wristbands in rib knit fabric. If you want a regular hem for the sleeves you will choose this when cutting the sleeve pattern.
Finally the pattern includes pieces for lining along the hem of the jacket. There is two back pieces of this to choose from. One fits a straight back and the other a jacket with a curved back.