Download and print the patterns to pants for women (contain the following PDF files):
Description of the pants pattern
This pants pattern is of medium difficulty to sew (due to the fact the pattern requires a zip to be inserted, and this can be tricky for people with little sewing skills). However, if you have a real stretchy fabric you might be able to sew pants without inserting zips. Remember, you have to get them over your hips when dressing.
The pants are lower in front, with a short zip up fly (you can sew this without a fly, as a straight seam). They are higher in back, with a curved backside. the seating position is created in a slightly different way from the skirt pattern. The angle of the mid-seams back and front is tilted slightly forward to turn the line of the legs into a seated shape. As in the skirt patterns this creates a need for tucks in the side seams.
The legs are straight and of medium width. They are easily altered (to be tapered, flared etc) They have a medium width waist band and do not include pockets or belt loops, although instructions on how to make these, as well as other tip are available.
The pants can be sewn without waistband. However, this will work best if you are sewing pants in stretch fabric and therefore do not intend to use a zip with fly or if you intend to sew zips in the side seam.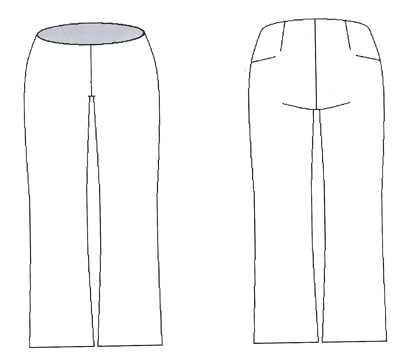 For pants with a fly-covered zip we recommend that you sew at least a narrow waistband to enable putting in a button or hook closing the fly. The waistband is the only thing different. The pants pattern is the same.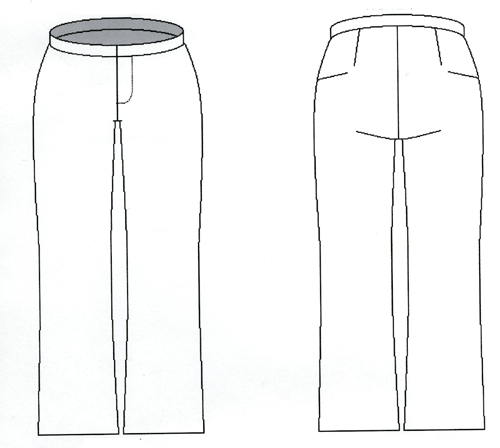 The pants pattern without waistband is cut low over the hips. If you want a slightly higher waistline without using a waistband you will have to alter the pattern. Patterns for pants in a seated position can not be altered without moving the position of the tucks in the side seams. Below you will find pattern pages for a higher waistline. They have the same number as the pages in the original pattern and you simply exchange these.