Sewing instructions for stretch skirt:
Sewing skirt together
TUCKS IN THE FRONT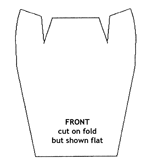 The front is cut on the fold. When you lay it out flat it will look like this.

Once the front is cut out, sew the tucks as shown.
If the fabric requires it you may want to zig-zag or overlock the edges. This might not be necessary with most stretch fabrics.
BACK SEAMS AND TUCKS
Sew along the back seam.


Sew the tucks as shown in the front.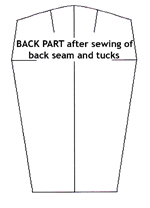 If you wish to make the back seam flatter,press the seams open and stitch over.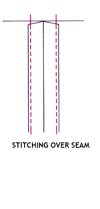 SIDE SEAMS
Sew side seams together, same as back.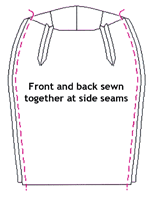 HEM
Fold up the hem and press with an iron. I usually fold up a small lip of the hem then fold it over again.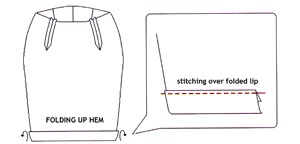 Stich carefully, trying not to overstretch the fabric, or the hem will look stiff. Sew in small stitches rather than large because they stretch better, and they will be less chance of the stitching breaking when skirt is being worn. You could also sew this seam in zig-zag stitch, which has more stretch than straight stitching.