Sewing instructions for women's raglan jacket:
Cutting the pattern
Once you decided what type of jacket you want to make (the alternatives are presented on the first page of the sewing instructions) it is time to cut the fabric.
You need two fabric pieces of the front piece of the pattern. The easiest way to do this is to place the pattern on a folded fabric. If you have chosen to have a curved back (cut x 2) you will do the same. To the edges of the front and back pattern pieces you must add seam allowance. We recommend that you do not use less than 1 cm.
If you have chosen to make a jacket with a straight back you will cut this pattern piece on the fold of the fabric. Front piece and straight back piece laid out on fabric will look like this.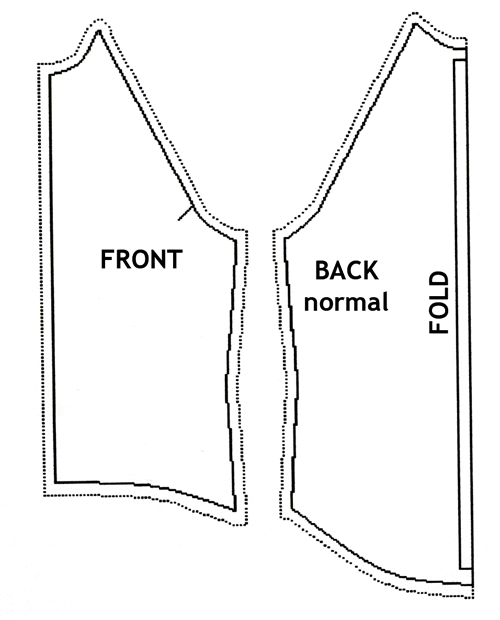 NOTE that all edges have seam allowance – except, of course, the side cut on the fold.
The sleeve to the women's raglan jacket consists of two separate pattern pieces. You can choose to not have a seam running down the middle by laying the 2 sleeve pieces together,
joining them at the centre line.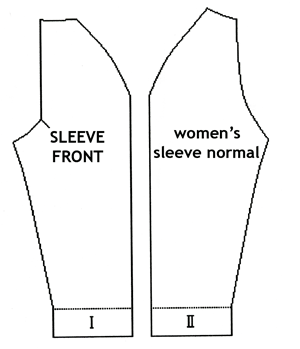 Regardless if you choose to join the two pattern pieces or not you are going to cut them x 2.
If you have chosen to make a jacket with a wristband you will cut the pattern after this marking. Remember to add seam allowance, 1 cm to all edges including the edge against the wristband. If you are going to make sleeve cuffs without a rib knit wristband you must cut the pattern after this marking. Remember to add 1 cm seam allowance to the edges and 2,5-3 cm to the hems of the sleeves.
You can chose to have a collar in the same material as the jacket and also to use the same jacket fabric for the facing. In this case you will cut these pieces too. The collar is cut on the fold and the facing is cut x 2. Again, remember 1 cm seam allowance.
Wristband and collar in rib knit fabric also have 1 cm seam allowance. If you prefer to have different fabric for the lining around the hemline of the jacket you will cut the facings of this fabric instead of same fabric as rest of jacket.