Sewing instructions for women's non stretch skirt:
Sewing waistband – single zip
CUTTING THE WAISTBAND

The waistband for this skirt is cut in the same way as for the stretch skirt. Rather than having the joining seam at the back, as for the stretch skirt, the non-stretch skirt's waistband meets at the front where the zip is, and overlaps itself so you can have a button hook or even Velcro for the join.
Cut the waistband the length of the waist + 8 cm long (the 8 cm includes 1 cm each end seam allowance + 6 cm overlap) and 8 cm wide (the 8 cm width is for an elastic which is 3 cm wide + 1 cm each end seam allowance).
Fold and press the ends as shown.




If you have chosen to use stretch fabric for the middle panel at the back of skirt you will have to insert stretch material for this part in the waistband too.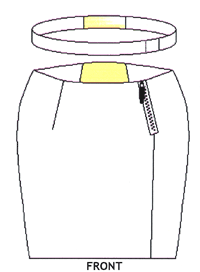 This waistband is cut like the others, except for the piece of stretch fabric inserted into it to match the stretch panel. Measure carefully where to insert it so the waistband will fit both stretch join and have overlap at zip.
SEWING THE WAISTBAND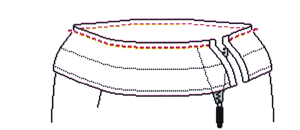 Attach the unfolded side edge to the top of the skirt, right sides of the fabric facing each other.
Check that the overlapping edges are placed so your preferred choice of button, hook or Velcro can be sewn on after the waistband is stitched in place.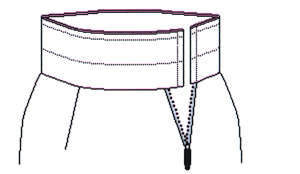 If you have chosen a stretch panel at back make sure the stretch part of the waistband is attached to the stretch part of the skirt. Stitch on.
Fold up the waistband and press seams up towards the waistband.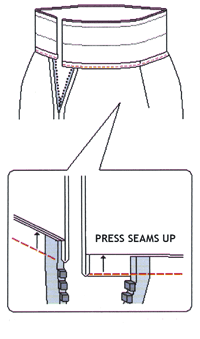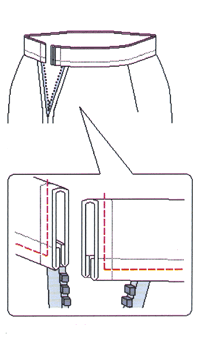 Fold the waistband down on the inside of the skirt. The folded edge is pressed under making the waistband even on front and back sides of skirt. Stitch the edges together and put stitching around the bottom of waistband to secure it and make a flat join.