Sewing instructions for non stretch skirt:
Sewing waistband – double zips
CUTTING THE WAISTBAND
This type of waistband you need two separate pieces, a shorter front piece, and a longer back.

To get the measurement for the longer back piece, measure from the zip, around the back to the other zip (length 1) then add 1 cm each end for seam allowance.

For the shorter piece, measure the front space between zips (length 3) then add 8 cm each end for overlap and seam allowance, and you have length 2.


Cut the back piece (length 1 + 1 cm seam allowance) and the back piece (length 3 + 8 cm each end = length 2).
Fold and press the ends as shown.


NOTE!  If you have chosen to insert a back panel in stretch fabric you will have to insert a stretch part in the back piece of your waistband too. For instructions how to do this, see the sewing instructions for waistband for a single zip skirt.
SEWING THE WAISTBAND


Attach the unfolded side (B) edge to the top of the skirt, right sides of the fabric facing each other. Do the same with both back and front pieces.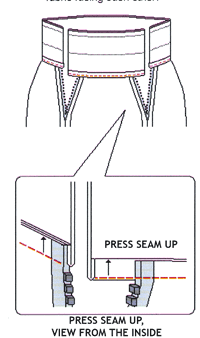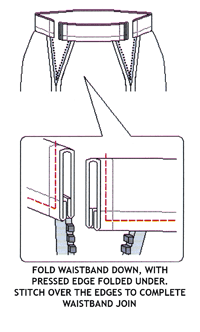 Fold up the waistband and press the seams up, towards the waistband. Fold the waistband down on the inside of the skirt. Stitch the edges together and put stitching around the bottom of waistband to secure it and make a flat join.