Sewing instructions for men's pants:
Adapting pattern and sewing pockets
ADAPTING PATTERN
The pattern does not include pockets, but if you wish to have them, it is not that difficult to change the pattern yourself. Here are the instructions for both making the pattern and sewing the pockets.
For the 'simple fly' pants you attach the pockets BEFORE you join the side and inner leg seam, thus before you begin any work with the actual zipper and fly. For the 'normal fly' and 'long fly' pants you also need to sew and attach the pockets before you sew the side and inner legs seams, but it can be done BEFORE or AFTER you have attached the zip. You will also need some extra scrap fabric, something thin, like cotton.
Trace new pattern for your pants front and on that tracing mark where you want the pocket to be.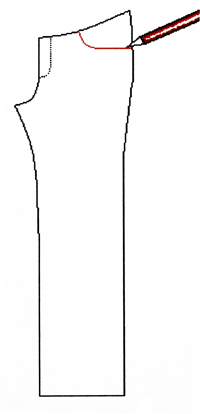 This is where you want your pocket line to start on your pants. Then outline the pocket pieces making up the inside and backside of pocket.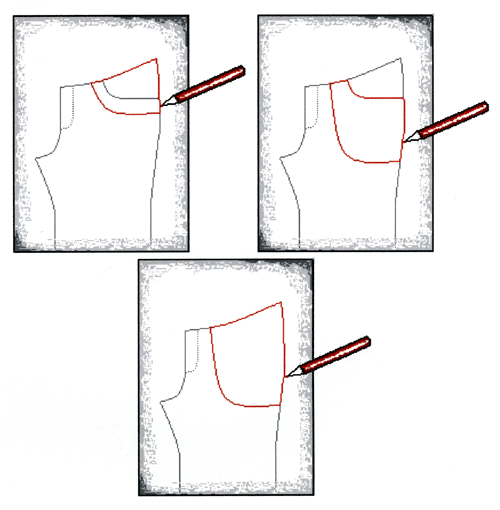 This is the shape of the pattern pieces for the pockets, based on the shape of the front piece of pants.
Now cut away the pocket section from the pants front (remember to add seam allowance to this edge as well when cutting). Also add seam allowance to the new pieces 1, 2 and 3 which make up the pockets.

CUTTING OUT PIECES AND SEW POCKETS
Cut x 2 of everything. Cut piece 1 from the same fabric as the pants, and cut pieces 2 and 3 from your extra fabric. Finish the edge of piece 1 by overlock or zigzag stitch . Then attach piece 1 to piece 3.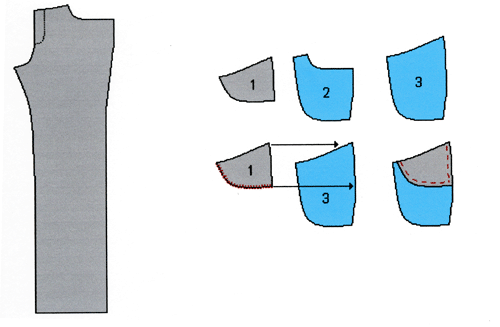 With right sides facing, attach piece 2 to the pants front at the waist line.
Fold piece 2 to the inside and press the joined edge. Stitch on the outside to fix the pocket piece firmly.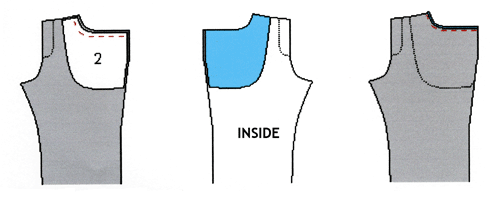 Line up the inside pocket (piece 3 with piece 1 attached) with the pants front. Pin at the top, to hold in place. Stitch around pockets inside edge to close it. You should NOT attach it to front piece of pants.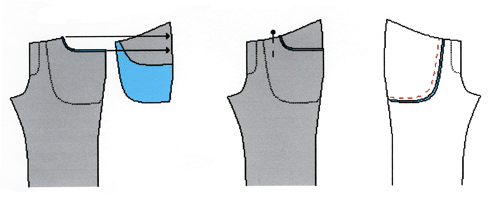 You will have a pocket sewn together at the curved inside line. At the side seam the pocket is still open. You will close this when you sew the side seam.