Click here to return to main page for simpler adaptations
Important to know about zips
Be careful to choose the best solution before you insert your zips. There are zips of different thicknesses and made in plastic as well as metal. The zip has to be tough enough for the planned use and at the same time not cause you discomfort.
Zips also have different openings. Sometimes a zip which can be divided is most useful. A zip that is possible to divide, inserted along the full length of the skirt makes it possible to simply split the skirt and leave it in the wheelchair as you transfer to some other place.
Twoway zips can also be handy if you need to split them from both ends.
Do not forget to figure out which way the zip top should face, so the zip actually will split the garment open way you planned.
Zips in jackets
One way of making it simpler to get in and out of jackets of anorak type is to sew in zips in the side and sleeve seams.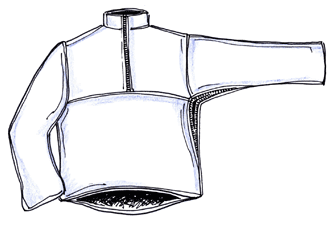 Depending on how wide opening you need you can use different length of zips.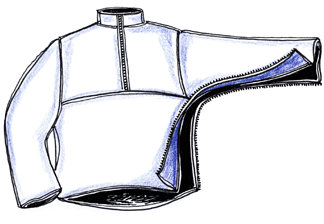 The simplest way to get into an anorak is by using a zip starting at the elbow of the sleeve, following this seam up to the armpit and there after the side seam down to the waistline. You can chose to insert a zip in one or both of the side seams.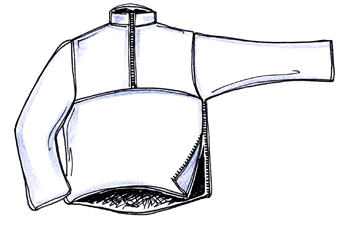 You can also use shorter zips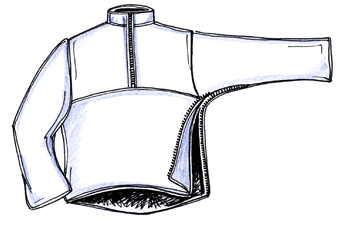 in the side seams or during a shorter length from sleeve to side seam covering only the area around the arm pit.
Zips in pants
In the same way, you can insert zips at the side seams of pants, either the whole way or from the knee up to the waistband.
NOTE!  Zips in the sides were a trial adaptation of ready made pants we felt was unsuccessful due to the nature of the garment (especially with jeans). If you require pants with zips in the side it is recommended that you make the pants from scratch.
You can of course try to adapt ready made pants and depending on how skilled/meticulous you are and the quality of the pants the results will vary. For instructions on how to sew in zips in seams read the instructions for zips in non stretch skirts. Putting in zips in pant seams are done the same way.
Click here to go directly to sewing instructions for zips in seams (non stretch skirts".
Zips in skirts
Skirts can be parted using zips.
For examples of where to put these click here to go to the sewing instructions for this.