When we were in the process of testing and designing Fashion Freaks' pattern for pants we got in contact with The National Association for Disabled Children and Adolescents, RBU. The Swedish organisation celebrated its 50th birthday and wanted a fashion show for its jubilee.
We sewed pants for three boys and one girl aged between 10 and 18 years old. Since they had some different wishes it became somewhat of an adventure for us. The pattern for the pants had to function but then …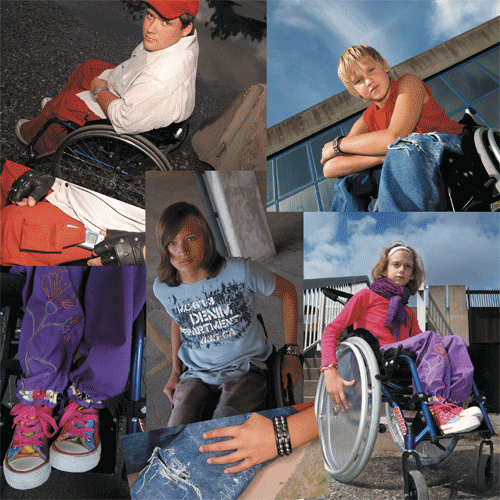 Above you can see the result: A pair of red chino type pants with pockets for mobile phone and keys. The purple cotton pants have an elastic wristband with a patterned fabric band on top and embroidered flowers. The jeans became a chapter by themselves. Fashion demanded uneven bleach, preferably with a nicotinic yellow tone at the base. They should be designer-scruffy and there existed a specific request for tears shaping holes and leather patches underneath.
The pockets and the embroidery might not be anything for the beginner to try but of course Meagan could do it. The jeans were harder. She had to test spraying, brushing or swabbing the bleach on, then quickly wash it away before all colour had gone. Bleaching first, then dying with fabric dye achieved the dirt yellow colour. The chic designer-scruffy look was simply created by Meagan getting at the fabric with nailbrush, different sandpapers and other useful tools. The holes then were covered with leather patches sewn on the inside. Quite a lot of studs were also used.
What we learned …
It is hard to find really thick and good jeans fabric.
But if you do it can take a lot of punishment.
Photographer Inger Bladh