Sewing instructions for women's pants:
Description of the content in the sewing instructions
This is the sewing instructions for the women's pants. These are of medium difficulty to sew (due to the fact the pattern requires a zip to be inserted, and this can be tricky for people with little sewing skills).
The pants are lower in front. You can choose between two different types of flies: one simple and one more complicated design. The pants are higher in back, with a curved backside. The legs are straight and of medium width, which are easily altered (to be tapered, flared etc).  They have a medium width waist band and do not include pockets or belt loops.
Instructions on how to make pockets are also available.
Sewing instructions for pants with a more complicated longer zip is available under the men's pants sections.
The pattern to the women's pants includes front and back pieces.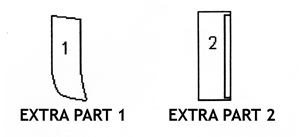 If you have chosen to make pants with a complicated fly you are also going to use the patter pieces for extra parts 1 and 2.

There is also a pattern piece for the waistband.