Sewing instructions for women's pants:
Cutting the pattern
The front piece of the pattern for women's pants includes both the pattern for a simple fly solution and a solution with a more complicated fly.
The pattern with the simple fly is cut as in picture A.
The complicated fly is made by cutting the pattern as in picture B.
The type B fly is more difficult to make but is more 'jeans-like' and has the option of being able to be made longer for men who require a longer opening. You will also need extra pieces for this fly.
Cut the front and back pieces on double layer of fabric like this.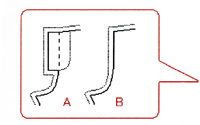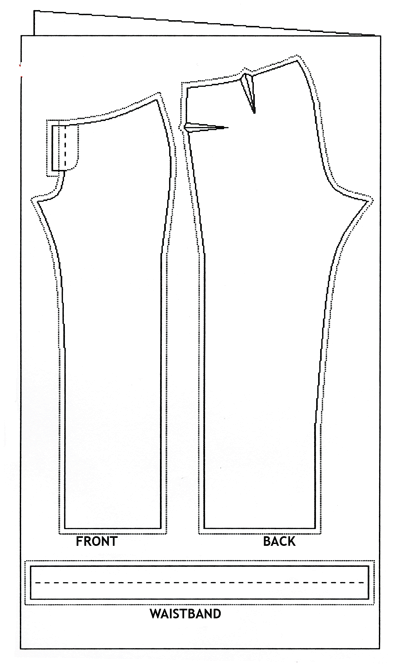 Add seam allowance (at least 1cm) to all edges and 2,5-3cm to the hems. Remember that you can measure and adapt the length of the pants legs to suit your leg length. Depending on your seating posture the pattern length can be more or less suited for you. If you want to make sure, cut the pants slightly longer than you need. It is easier to shorten the leg length than making them longer if necessary.
The waistband is cut as one piece unless the width of the fabric is too short. In this case you have to cut it in two sections (remember to add seam allowance to the edges) and then join it in the back.
If you are going to use the more complicated fly, add a few extra cm (around 5 cm) to the end of the waistband.


The extra pieces on the pattern sheet for the complicated fly are cut x 1, e.g. on single layer fabric.
For the compicated fly cut one piece of extra part 1 and 2. These patter pieces need to be layed out on the front side of the fabric when being cut so the pieces are facing the right way for the pants. Remember to add seam allowance.